Microsoft have, today, announced a brand new gaming console called the Xbox One.
The Xbox One is the first major revamp of the Xbox console series, and will integrate gaming with TV, internet and special features like voice recognition.
"It changes everything," Marc Whitten, an Xbox executive, told a packed hall of technology journalists at the company's campus in Redmond, Washington. "This is rocket-science stuff."

Analysts who had wondered whether the company could follow up on the success of its Xbox 360, first unveiled in 2005, said its successor offered a complete entertainment system designed for the family, not just gamers.

"The Xbox One really looks to advance the state of video game technology and entertainment in a way that we haven't seen before," said Brian Blau, a director of Gartner Research.

"The Xbox One is a real advancement, one that will transform the way we experience TV, games, music, movies and more. From what we can see so far Microsoft has met and far exceeded expectations for the Xbox One. This is Microsoft branching out into the living room to reach more of a family audience rather than a core gaming audience."

The Xbox One, which will be available from the end of the year, will be powered by 300,000 servers, more than the entire world's computing power in 1999, said Whitten.
An improved, ultra-sensitive Kinect sensor will track wrist and shoulder rotations and be able to read users' heartbeats. "This is human control for a human experience." Its main camera can record 1080P RGB video at 30 frames per second.
A "snap mode" similar to Microsoft Windows 8 experience allows users to run two activities – such as watching TV and browsing the internet, or using Skype – simultaneously. It offers a second screen.
The Xbox One has 8GB of Ram, along with a Blu-ray drive, 64-bit architecture and a 500GB onboard hard drive. Microsoft also unveiled a new version of its camera-based Kinect system with better motion and voice detection. It showed how users can watch live sports on TV while getting updates on fantasy leagues on a split screen. In an effort to stay ahead of rivals, Microsoft said new content for the popular Call of Duty game can be downloaded on the Xbox One before any other system.
Microsoft said more games would be shown at next month's E3 video game conference in Los Angeles.
The console is yo be released by the end of the year.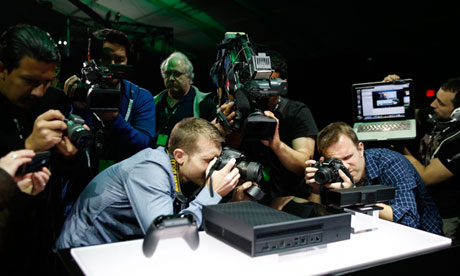 Credits: Wired